Epoxy Flooring Company, Windsor
Epoxy Floors Built To Last, 25 Yrs Experience
Residential, Commercial, Industrial Epoxy
Lifetime Warranty Floor Coatings
Epoxy-Rite is a Windsor epoxy company that installs high quality residential, commercial, and industrial epoxy flooring in the Windsor / Essex County region. Depending on your concrete flooring needs, we also provide high performance urethane coatings for tough, durable, chemical resistant finishes that are long lasting.
We offer a wide variety of floor coatings that include 100% solid epoxy, metallic epoxy, broadcast flake and quartz, cover base, and more. Our 25 years of experience and knowledge of epoxy flooring systems, allows you to achieve the right flooring solution.
Epoxy Floor Installation Services
As a locally owned epoxy flooring contractor in Windsor, we provide one-stop services that include concrete repairs and leveling. Our epoxy floor installers can design and create the perfect flooring solution for a wide range of indoor and outdoor environments. We work with you to determine the best solution for your concrete flooring needs. Whether you need a new look for your office or an epoxy coating for your warehouse, we can install the optimal flooring for your needs. No job is too big or small. Call us or email us to discuss your epoxy project today.
We Provide Superior Epoxy Flooring Solutions!
Learn what makes our expert installations unique.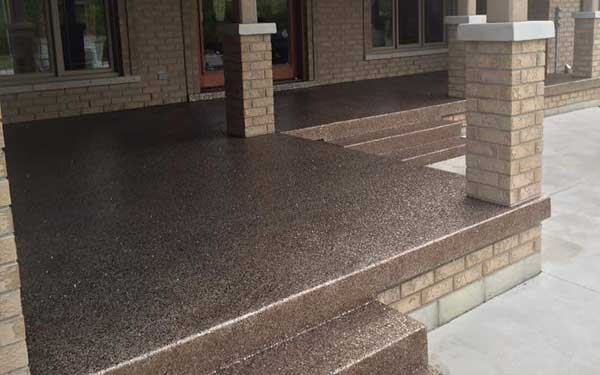 Epoxy Flooring
Epoxy coatings provide smooth, tough, seamless floors that are aesthetically pleasing with a wide variety of colour and style possibilities. Epoxy floors are ideal for protecting, commercial, industrial, residential and garage floors, making them easy to clean and long lasting.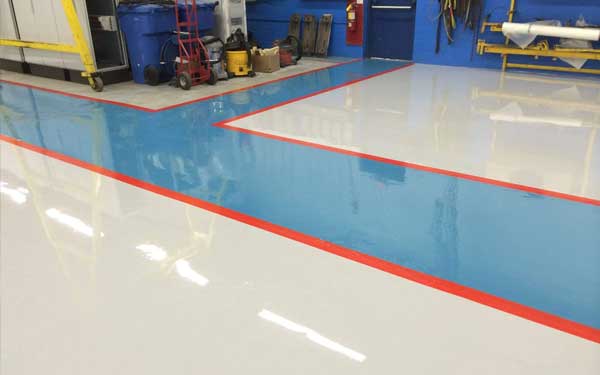 Urethane Flooring
Urethane flooring is primarily used as a wear-resistant surface to protect epoxy. It is better suited to resist scratch, impact, and abrasion. It also provides great protection against environmental abrasives like UV rays, rain and snow. Urethane is resistant to mold and mildew.
Benefits of Epoxy Flooring
Aesthetic Appearance
Epoxy flooring has a wide range of colours to choose from allowing you to match you walls and other interior design elements. Epoxy flooring has a high gloss reflective surface creating a smooth, bright, atmosphere that increases light and looks professional.
Durable Long-Lasting Surfaces
Epoxy flooring is made from tough materials making it resistant to stains, chemicals, and high traffic. Epoxy coating protects the surface of your concrete floor. This gives you concrete floor a longer life and reduces the expense of repairs for many years.
Easy-To-Clean, Smooth Surface
The smooth surface of epoxy flooring is free from crevices and pores making it much easier to clean and maintain. Sweeping easily removes dry debris. For a more sanitary clean, soapy water is all you need to keep your epoxy floors looking like new for years to come.
Chemical Resistant & Safe
Epoxy coatings can withstand continued exposure to a wide range of chemicals and abrasive materials. Epoxy coating are also resistant to extreme and sudden impact, slippery substances, high temperatures, and even fire.
Experience
Epoxy-Rite has 25 Years of experience in concrete flooring solutions. Our skilled epoxy installers use the latest techniques to ensure your floor looks great, is durable and long lasting.
Lifetime Warranty
We are proud to offer a lifetime warranty that protects you and your floor against product failures and damage caused by normal day to day use.
Locally Owned and Operated
Epoxy-Rite is a locally owned epoxy company that is licensed, bonded, and fully insured in the Windsor-Essex County region. We don not sub-contract any part of our work.
Quality Workmanship
Our Windsor epoxy installers do it right, meaning we don't cut corners. Our quality assurance and high standard work ethics are applied with every job we undertake – big or small.
Customized Solutions
Every concrete floor is unique so we tailor our solutions to provide our customers with durable long-lasting coatings that meet their specific flooring needs.
100% Customer Satisfaction
We take pride in delivering epoxy floor installations that meet or exceed our customers expectations. We strive to continuously provide the top quality services our customers deserve.
What Our Customers Have To Say
I can't say enough good things about these guys. From being a few minutes early for our initial meeting right through to the final cleanup, everything was handled professionally. Their attention to detail surprised me the most as extra time was spent grinding our ugly cracked floors to ensure they were properly prepared. The entire experience was 5 stars.
Roy Monette
Our company hired Epoxy-Rite to install industrial grade coatings on our concrete floors. We were quite impressed with the quality of the work that surpassed the results we were looking for. We didn't think the floors would turn out as smooth as they did. This is a very knowledgeable and attentive company that delivers what they promise.
Howard Millson
We had Epoxy-Rite install epoxy / urethane flooring in our basement floor for a more esthetic appeal. We were extremely satisfied with the finished product. The level of service was excellent. The team worked efficiently. Gary was very responsive in all communications with us, informing us of time frames and the process details. We would highly recommend this company to family and friends.
Glen Shepley
Our garage looks so cool with the blue flake flooring. It kinds looks like a showroom now. Just love how easy it is to clean. Thanks Mike for explaining how polyaspartic would be a better solutions for us. From start to finish the Epoxy-Rite team did a great job. They were very professional and courteous. I will certain recommend them to others.
Jacque & Danielle Desbien
I cannot thank Mike & Gary enough for the great job they did on on our restaurant floor. The floor is now so much more attractive and safer. During the process customer service by the entire Epoxy-Rite team was exceptional. I selected Epoxy-Rite because they took additional time to explain my options, including those that I would not be happy with later on down the road.
Bill Blair
From start to finish a very pleasant experience. I was worried about the preparation of our warehouse floors because they were quite rough, but your team worked hard to make them smooth. I appreciate the time taken to explain the differences in materials and how they need to be applied. After answering all my questions I felt comfortable knowing I hired the right people. A high quality job that will greatly improve our warehouse options.
Ted Dunn
Epoxy Floor Choices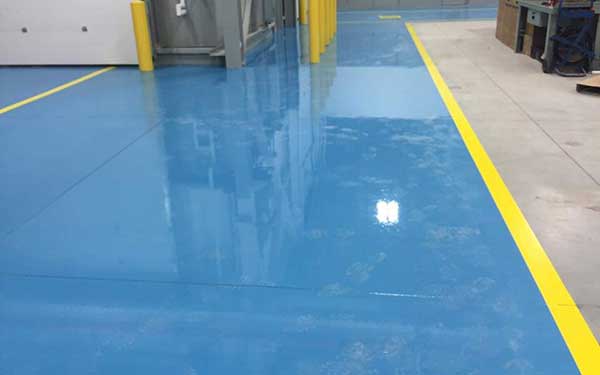 Solid Epoxy Flooring
Solid Epoxy floor coatings are well-suited for various floor types, including warehouses, industrial and commercial, and garage floors. Solid epoxy is available in matte and gloss finishes.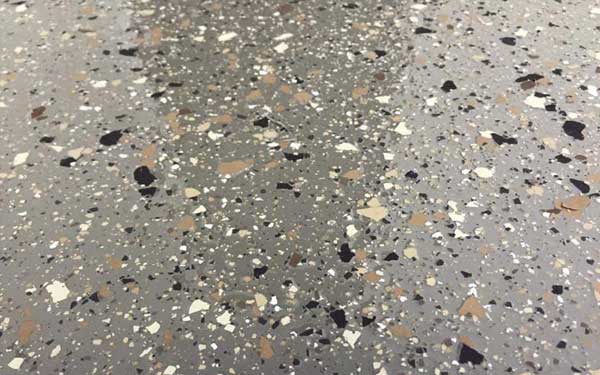 Flake Epoxy Floors
This type of epoxy flooring gives you the look of granite or natural stone. Flake is very customizable with many colours and sizing to personalize your concrete floor for an attractive and durable finish.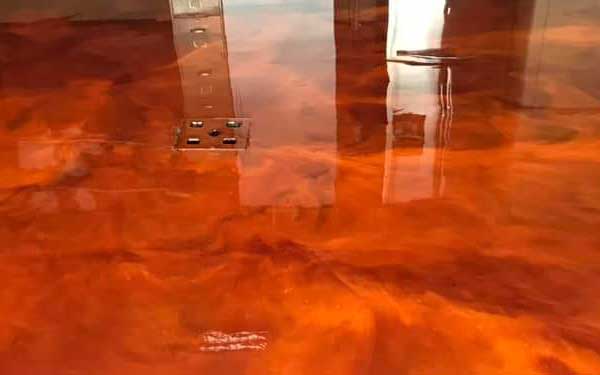 Metallic Epoxy Floors
Metallic epoxy flooring is created by combining a metallic additive with regular epoxy coatings. This type of epoxy flooring gives you a distinctive look that can be made to resemble marble or lava.
We serve Windsor-Essex County and surrounding areas including:
Not sure if we service your area?
Give us a call.